Da Nang International Fireworks Festival 2019 (DIFF) could be the most anticipated event for locals and tourists to Danang this summer 2019. This event has been voted to be TOP 5 cultural events in 2018 in Vietnam. So for almost 10 years, this international competition has become a significant symbol of Da Nang tourism. So
TICKET PRICE OF DIFF 2019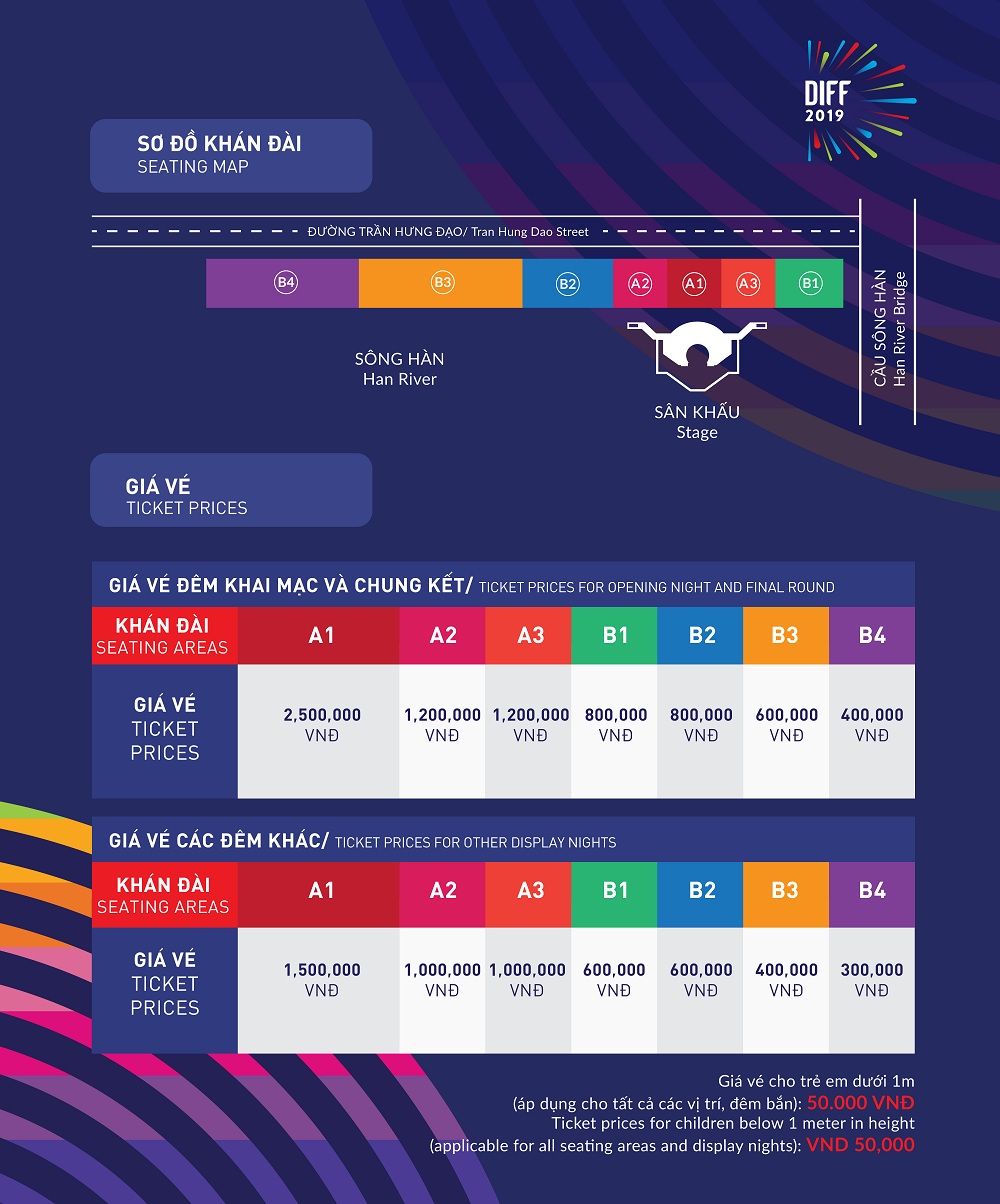 The Ticket Price of Da Nang International Fireworks Festivals 2019 has been announced from the beginning of April 2019. According to the Danangfantasticity, there have a slight changes on the price. They vary from 300,000 to 2,500,00 VND, depending on the stands. The entrance ticket price is from 300,000 VND to 1,200,000 VND (around 13 USD to 52 USD). For the VIP section, the price is 2,500,000 VND (108 USD). And the ticket for children under 1 meter is 50,000 VND (around 2-3 USD).
TIMELINE OF DIFF 2019
This year, the Da Nang International Fireworks Festival 2019 will last for 1 month. Only in 5 days, every Saturday, from 1st June to 6th July 2019. with the unseen magnificent fireworks displays, Da Nang at night would been glamourous and magical all the time. As usual, the Organizer choose Han riverside to take place of the competition. In specific, between the Thuan Phuoc bridge and River Han Bridge.
MAIN THEME OF THE 2019 COMPETITION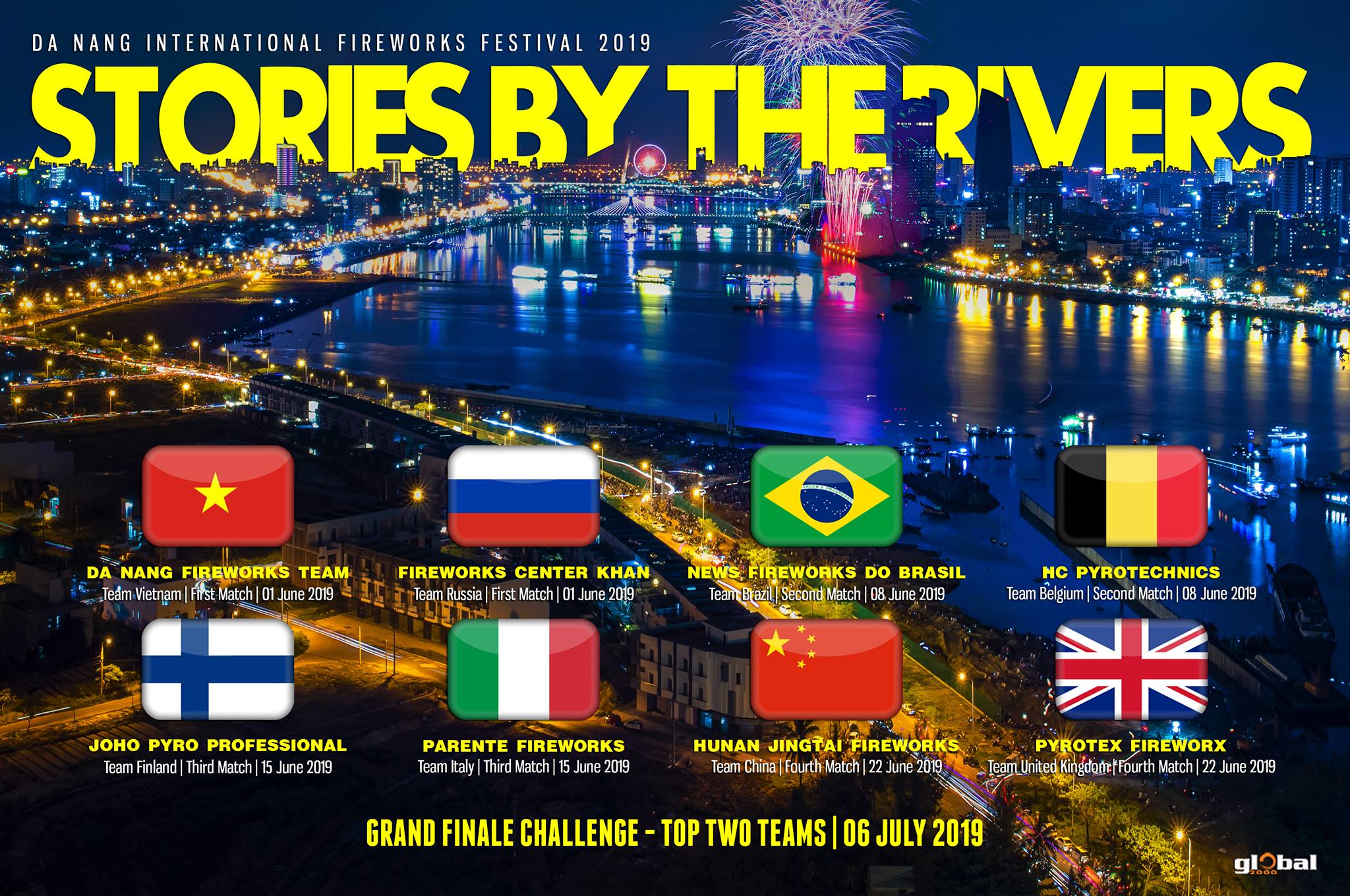 The main theme of the competition has been varied every year. And the officical current theme is the "Stories of The Rivers". So we could expect for the relaxing, inspirational, colorful summer nights. The gorgeous and tactful fireworks displays would somehow featured the stories of
8 PARTICIPANTS OF THIS YEAR
This year, there are 8 partipating teams who will be here to feature the fireworks display of Da Nang International Fireworks Festival 2019. Including the 2018 winner Italy, who has won 4 times during 10 years of the Festival. 3 familiar teams has come from China, Russia, United Kingdom. Then we can welcome the 3 first-time participants from Brazil, Belgium and Finland; and finally of course, the host, Vietnam.
For getting more information about the DIFF 2019, you can visit Danangfantasticity
SUPPORTING EVENTS
Da Nang International Fireworks Festival 2019 will be more excited and attractive than ever. Because there are many top art performances of Vietnames artists have been invited such as Thanh Lam, Hong Nhung, Ho Ngoc Ha, Doan Trang, Tung Duong, Phuong Linh, Uyen Linh, Phuong Vy, Thao Trang, Ho Trung Dung, Quoc Thien.
———————————————————————————————————————-
If you are planning a perfect holiday to enjoy the Da Nang International Fireworks Festival 2019, do not miss the opportunity to visit our 4 star international standards The Code hotel & spa. Because of the ideal location near the Son Tra peninsula, our rooftop view could provide one of the best angles to watch the full of DIFF show. With our rooms and services, we can ensure to you a unique experience to enjoy the days staying at Da Nang city.
For further information, you can visit HERE.